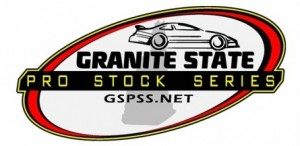 Squeglia Wins at Lee!
Lee, NH – Local racer Joe Squeglia of Derry, NH won the Seacoast 100 Granite State Pro Stock Series on Friday, following the fireworks at Lee. Squeglia was fast all day, posting the second fastest lap in practice, behind Jeremy Harclerode of Newmarket, NH. New dad, Jeremy Davis of Tamworth, NH also looked to be a contender as the previous winner at Lee and another that posted fast times in practice.
Squeglia, and Harclerode both won their heats. Davis finished second in his heat, and after the redraw they started heads up in the feature. Early in the race Squeglia kept the lead until lap 37 when Harclerode passed him. Derek Griffith of Hudson, NH started 12th and was quietly moving up in the pack and by the half way mark had taken 4th place. Luke Hinkley of Claremont, NH was 7th on the starting grid, but had to start at the tail of the field because a quick trip to the pits on the pace laps, also moved up the field quickly.

Harclerode had a commanding lead until Davis caught up to him around lap 69, and on lap 71 Harclerode got loose coming out of turn 2, allowing Davis to capture the lead. Davis held the lead until lap 85 when his motor blew in turn 3 collecting Harclerode as well. Squeglia gained the lead in a restart with Griffith and held onto the lead to capture the victory.
Saturday, July 22nd the Granite State Pro Stock Series will be at White Mountain Motorsports Park, NH for the White Mountain 100. For more information follow the Granite State Pro Stock Series on Facebook or at www.gspss.net
Unofficial Finish
1 03 Joe Squeglia
2 12 Derek Griffith
3 18 Jeff Fagan
4 42 Corey Bubar
5 72 Scott MacMichael
6 29 Barry Gray
7 7oz Grant Aither
8 31NH Luke Hinkley
9 21 Josh King
10 93 Ryan Green
11 39 Nick Lascuola
12 23 Glenn Martell
13 08 Mike O'Sullivan
14 44P Rusty Poland
15 09 Jeremy Davis
16 51NH Jeremy Harclerode
17 4 Tommy O'Sullivan
18 53 Tyler Fiscus
19 43 Devin O'Connell
20 66 Steve Pailler
Contingency Winner
Car #
Name
AR Bodies (Hard Luck) 51NH Jeremy Harclerode
O'Reilly Auto Parts (3rd Place) 18 Jeff Fagan
O'Reilly Auto Parts (Last car on Lead Lap) 31NH Luke Hinkley
Five Star Bodies (5th Place) 72 Scott MacMichael
Sunoco (Heat Winner) 03 Joe Squeglia
Sunoco (Heat Winner) 51NH Jeremy Harclerode
VDL Fuel (4th Place) 42 Corey Bubar
Race Parts NH Hard Charger 7oz Grant Aither
Track—Lee USA Speedway, 0.375 mile Lee, NH.
Race—Seacoast 100
Time of Race— 44:57.7
Best Lap Time- 15.157
Best Lap By- Luke Hinkley
Cautions—(4)— 1, 17, 24, 85
Margin of Victory— .699
Lap Leaders—(3) Joe Squeglia 53, Jeremy Harclerode 34, Jeremy Davis 14