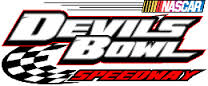 Tremont Two-For-Two in Topless Action on Devil's Bowl Dirt
Counter scores big Mini Stock win
WEST HAVEN, Vt. – Kenny Tremont Jr. is starting to like the "topless" nights at Devil's Bowl Speedway. The seven-time track champion from West Sand Lake, N.Y., backed up his victory in last year's special no-roofs race with another NASCAR Whelen All-American Series score at The Dirt Track at Devil's Bowl on Central Vermont Motorcycles Night on Sunday, June 18. Also scoring wins were Bill Duprey, Derrick Counter, and Sean Beinhaur.
An improved track surface created good side-by-side racing in the 35-lap race for the Central Vermont Motorcycles Sportsman Modified division. A fast car and a handful of early caution flags helped Tremont navigate his way from the eighth starting position into the lead by lap 5, but his ride to the win was not easy. A long green-flag run made lapped traffic an obstacle for Tremont, who was dogged by Tim LaDuc for most of the race. LaDuc was tight to Tremont's rear bumper for the final five laps but could not find room in traffic to attempt a pass.
(more…)