Wall Scores Tiger Triple Crown Victory at Thunder Road
Pembroke, Pelkey, and Smith Take Victories in Friday Special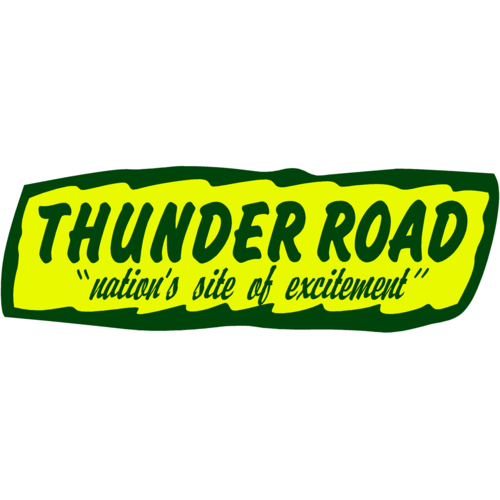 Barre, VT — East Kingston, NH's Bryan Wall Jr. captured the biggest win of his career and of the Lenny's Shoe & Apparel Flying Tiger season at Thunder Road on Friday, June 11. Wall inherited the lead with 22 laps remaining in the Myers Container Service Triple Crown Series 100 and held off Waterbury Center's Kelsea Woodard down the stretch as part of a double-feature night for the Tigers live on FloRacing
Wall, who entered the night as the point leader, rolled off 15th for the Triple Crown feature that had been postponed a week by rain. The third-generation racer steadily climbed to fifth over the first 73 laps, dodging a half-dozen cautions for various incidents.
In the next five circuit, Wall caught two big breaks to go with his fast car. Milton's Sam Caron had led from the start, but entering turn three, Craftsbury's Mike Martin got into the back of Caron. The contact sent Caron spinning and put both driver to the rear of the field.
Waterbury Center's Jason Woodard, the four-time and defending Flying Tiger champion, wound up with the lead. Wall scooted underneath polesitter Kevin Streeter for second on the restart, then had the best view in the house as his teammate Woodard broke a rim with 22 laps remaining to bring out the event's eighth caution. Woodard was able to return for the restart, but the misfortune meant the end of his winning hopes.
Although Wall had found his way to the lead, the fight was far from over. Kelsea Woodard, another teammate, passed Streeter along with Jaden Perry on the restart. Wall and Woodard then broke away with Woodard all over Wall's back bumper. The Flying Tigers' lonesome lady was unable to find a way around Wall, though, giving the 17-year-old his third career victory.
Perry finished second after recovering from multiple pit stops near the halfway point. Streeter, Colin Cornell, Robert Gordon, Joel Hodgdon (subbing for Cameron Ouellette), Caron, Jason Woodard, and Martin rounded out the top-10.
Montpelier's Kyle Pembroke bounced back from a disastrous Memorial Day Classic to earn a dominating victory in the 50-lap Maplewood/Irving Oil Late Model Feature. Pembroke started on the pole after not even making it to qualifying the previous week with engine issues and went wire-to-wire at the front.
Two early cautions for Stephen Donahue's hard turn-two crash and a spin by RallyCross racer Conner Martell helped the field hang with Pembroke. With the final 35 laps going green, Pembroke ran away and hid from the pack for his eighth career Late Model victory.
Wolcott's Gravel kept Pembroke honest during the first half of the feature before holding off a late bid by Northfield's Matt White for second. Christopher Pelkey and Jason Corliss came from deep in the field to finish fourth and fifth. Trampas Demers, Scott Dragon, Matthew Smith, Tyler Cahoon, and Phil Scott rounded out the top-10.
In the 40-lap nightcap for the Lenny's Shoe & Apparel Flying Tigers, Barre's Jason Pelkey rebounded from overheating problems in the first feature to grab his fourth career victory. Pelkey got the lead from polesitter Keegan Lamson on a lap-10 restart after Micheal MacAskill's spin. He then held off Hinesburg's Derrick Calkin on two restarts before J.T. Blanchard blew a tire with 14 laps to go. Sam Caron was the innocent victim as he plowed into the pit wall to bring out the red flag. Caron quickly exited his car and was not hurt.
Calkins was able to put the bumper out front for lap 27 before he slid back a bit, allowing Jason Woodard to take over second. One more caution flew on lap 38 when a car put fluid down on the racetrack and several cars — including third-place runner Logan Powers — crashed before they could get slowed for the yellow. That set up a green-white-checkered for the winner's trophy, and Pelkey dusted the field in the sprint to the finish.
Woodard slipped backwards in the high side during the final run, allowing Calkins and Cameron Ouellette to get underneath him for second and third. Joel Hodgdon took fifth in his second substitute driver role of the night, assisting Brandon Gray after his engine expired in the first feature. Colin Cornell, Kevin Boutin Jr., rookie Justin Prescott, Kelsea Woodard, and Bryan Wall Jr. finished sixth through 10th.
Williamstown's Tommy "Thunder" Smith extended his all-time RK Miles Street Stock win record with a last-lap pass in the 25-lap feature. Smith was running third when Tom Campbell and James Dopp crashed hard to bring out the caution with five laps remaining. Dopp required medical assistance at the scene but was not seriously injured.
Leader Josh Lovely got a great restart for the final sprint, but Smith was right behind him, roaring past Dean Switser Jr. for second. As they looked for the white flag, Smith darted to the outside. The veteran wound it up on the high groove and edged Lovely at the line for his 33rd career Street Stock win. Behind them, Justin Blakely spun out of turn four and collected several other cars coming to the checkered flag.
Switser took third followed by Luke Peters and rookie Trevor Jaques. Kaiden "Tropical Storm" Fisher, Scott Weston, Kylar Davis, Kyle MacAskill, and Jamie Davis completed the top-10.
The New England Antique Racers (NEAR) also visited Thunder Road for the first time since 2018 for a pair of 15-lap features. A pair of Milton racers took home the wins with Greg Gilbert taking home the Modified win and Norm Cyr earning top honors in the Sportsman class.
Thunder Road begins the Thursday night racing season on June 17 at 7:00pm with Casella Waste Systems Night. The RK Miles Street Stocks are running double features with their Memorial Day Classic make-up opening the program. There's also a full card of racing for the Maplewood/Irving Oil Late Models, Lenny's Shoe & Apparel Flying Tigers, and Burnett Scrap Metals Road Warriors plus the annual Kids Rides from 4:00-4:45pm.
Admission is $15 for adults, $5 for kids ages 6-12, and $30 for a family of four (2 adults, 2 kids). Advance tickets are available at www.happsnow.com/event/Thunder-Road-Speedbowl. All Thunder Road events are also live-streamed on FloRacing for those with a monthly or yearly subscription.
For more information, contact the Thunder Road offices at (802) 244-6963, media@thunderroadvt.com, or visit www.thunderroadvt.com. You can also follow us on Facebook and Twitter at @ThunderRoadVT. For more information about FloRacing, visit www.FloRacing.com.
THUNDER ROAD SPEEDBOWL — Barre, VT
SCOUT NIGHT
FRIDAY, JUNE 11, 2021
UNOFFICIAL RESULTS
LENNY'S SHOE & APPAREL FLYING TIGERS
MYERS CONTAINER SERVICE TRIPLE CROWN 100 MAKE-UP FEATURE
Pos., Start Pos., Driver, Car #, Hometown, Laps
1. ( 15 ) Bryan Wall Jr. ( 77NH ) , East Kingston, NH , 100 Laps
2. ( 14 ) Kelsea Woodard ( 55VT ) , Waterbury Ctr., VT , 100 Laps
3. ( 8 ) Jaden Perry ( 92VT ) , Hardwick, VT , 100 Laps
4. ( 1 ) Kevin Streeter ( 67VT ) , Waitsfield, VT , 100 Laps
5. ( 6 ) Colin Cornell ( 54VT ) , E. Burke, VT , 100 Laps
6. ( 7 ) Robert Gordon ( 20VT ) , Milton, VT , 100 Laps
7. ( 21 ) Joel Hodgdon ( 90VT ) , Craftsbury Common, VT , 100 Laps
8. ( 3 ) Jason Woodard ( 68VT ) , Waterbury Ctr., VT , 100 Laps
9. ( 2 ) Sam Caron ( 07VT ) , Milton, VT , 100 Laps
10. ( 9 ) Michael Martin ( 01VT ) , Craftsbury, Common, VT , 100 Laps
11. ( 18 ) Logan Powers ( 31VT ) , Middlesex, VT , 100 Laps
12. ( 29 ) Stephen Martin ( 9VT ) , Craftsbury, Common, VT , 100 Laps
13. ( 17 ) Brian Delphia ( 25VT ) , Duxbury, VT , 100 Laps
14. ( 24 ) #Justin Prescott ( 44VT ) , Williston, VT , 100 Laps
15. ( 10 ) Kevin Boutin Jr. ( 25NH ) , Fairfax, VT , 100 Laps
16. ( 26 ) Jamon Perry ( 62NH ) , Hardwick, VT , 99 Laps
17. ( 25 ) #Tanner Woodard ( 68NH ) , Waterbury Ctr., VT , 96 Laps
18. ( 23 ) Ryan Boutin ( 28VT ) , Fairfax, VT , 83 Laps
19. ( 16 ) Derrick Calkins ( 15VT ) , Hinesburg, VT , 78 Laps
20. ( 11 ) Mike Billado ( 8VT ) , Grand Isle, VT , 73 Laps
21. ( 27 ) Jason Pelkey ( 64VT ) , Barre, VT , 65 Laps
22. ( 22 ) Adam Maynard ( 45VT ) , Milton, VT , 62 Laps
23. ( 12 ) #JT Blanchard ( 66VT ) , Graniteville, VT , 62 Laps
24. ( 5 ) Rich Lowrey ( 8NH ) , South Hero, VT , 49 Laps
25. ( 20 ) Michael MacAskill ( 33VT ) , Williamstown, VT , 47 Laps
26. ( 4 ) Brandon Gray ( 00VT ) , Thetford, VT , 32 Laps
27. ( 13 ) Chris Laforest ( 56VT ) , Barre, VT , 22 Laps
DNS ( 19 ) Keegan Lamson ( 55NH ) , Berlin, VT
DNS ( 28 ) Chris Chambers ( 20CT ) , Chelsea, VT
REGULAR FLYING TIGER FEATURE
Pos., Driver, Car #, Hometown
1. Jason Pelkey ( 64VT ) Barre, VT
2. Derrick Calkins ( 15VT ) Hinesburg, VT
3. Cameron Ouellette ( 90VT ) Barre, VT
4. Jason Woodard ( 68VT ) Waterbury Ctr., VT
5. Joel Hodgdon ( 00VT ) Craftsbury Common, VT
6. Colin Cornell ( 54VT ) E. Burke, VT
7. Kevin Boutin Jr. ( 25NH ) Fairfax, VT
8. #Justin Prescott ( 44VT ) Williston, VT
9. Kelsea Woodard ( 55VT ) Waterbury Ctr., VT
10. Bryan Wall Jr. ( 77NH ) East Kingston, NH
11. Robert Gordon ( 20VT ) Milton, VT
12. Jamon Perry ( 62NH ) Hardwick, VT
13. Michael Martin ( 01VT ) Craftsbury Common, VT
14. Kevin Streeter ( 67VT ) Waitsfield, VT
15. Michael MacAskill ( 33VT ) Williamstown, VT
16. Ryan Boutin ( 28VT ) Fairfax, VT
17. #JT Blanchard ( 66VT ) Graniteville, VT
18. Keegan Lamson ( 55NH ) Berlin, VT
19. Logan Powers ( 31VT ) Middlesex, VT
20. Jaden Perry ( 92VT ) Hardwick, VT
21. Stephen Martin ( 9VT ) Craftsbury Common, VT
22. #Tanner Woodard ( 68NH ) Waterbury Ctr., VT
23. Chris Laforest ( 56VT ) Barre, VT
24. Sam Caron ( 07VT ) Milton, VT
25. Mike Billado ( 8VT ) Grand Isle, VT
26. Adam Maynard ( 45VT ) Milton, VT
DNS Rich Lowrey ( 8NH ) South Hero, VT
DNS Brian Delphia ( 25VT ) Duxbury, VT
MAPLEWOOD/IRVING OIL LATE MODELS
Pos., Driver, Car #, Hometown
1. Kyle Pembroke ( 27VT ) Montpelier, VT
2. Marcel J. Gravel ( 86VT ) Wolcott, VT
3. Matt White ( 42VT ) Northfield, VT
4. Christopher Pelkey ( 64VT ) Graniteville, VT
5. Jason Corliss ( 66VT ) Barre, VT
6. Trampas Demers ( 85VT ) Shelburne, VT
7. Scott Dragon ( 0VT ) Milton, VT
8. Matthew Smith ( 04VT ) Fairfax, VT
9. Tyler Cahoon ( 38VT ) Danville, VT
10. Phil Scott* ( 5VT ) Berlin, VT
11. Brendan Moodie ( 94VT ) Wolcott, VT
12. #Brandon Lanphear ( 16VT ) Morrisville, VT
13. Darrell Morin ( 17VT ) Westford, VT
14. Boomer Morris ( 13VT ) Barre, VT
15. Chip Grenier ( 62VT ) Orange, VT
16. Chris Roberts ( 3ME ) Washington, VT
17. Anthony Hill ( 8VT ) Waterford, VT
18. Connor Martell ( 21MT ) Williston, VT
19. Scott Coburn ( 72VT ) Barre, VT
20. Eric Chase ( 40VT ) Milton, VT
21. #Cooper Bouchard ( 7MA ) Hinesburg, VT
22. Stephen Donahue ( 2VT ) Graniteville, VT
*Sub driver for Bobby Therrien
RK MILES STREET STOCKS
Pos., Driver, Car #, Hometown
1. Thomas Smith ( 22 ) Williamstown, VT
2. Josh Lovely ( 54 ) Williamstown, VT
3. Dean Switser Jr. ( 16 ) Waterford, VT
4. Luke Peters ( 26 ) Groton, VT
5. #Trevor Jaques ( 57 ) Milton, VT
6. Kaiden Fisher ( 18 ) Shelburne, VT
7. Scott Weston ( 04 ) Berlin, VT
8. Kylar Davis ( 68 ) Berlin, VT
9. Kyle MacAskill ( 7 ) Williamstown, VT
10. Jamie Davis ( 43 ) Wolcott, VT
11. #Jared Rouleau ( 60 ) Warren, VT
12. #Taylor Hoar ( 48 ) South Hero, VT
13. Gary Mullen ( 29 ) Tunbridge, VT
14. Thomas Peck ( 96 ) Waterbury, VT
15. Michael Gay ( 3 ) So. Burlington, VT
16. #Tyler Whittemore ( 74 ) Barre, VT
17. Justin Blakey ( 17 ) Graniteville, VT
18. #Todd Raymo ( 24 ) Swanton, VT
19. Eric MacLaughlin ( 6 ) Milton, VT
20. James Dopp ( 0 ) Northfield, VT
21. Tom Campbell ( 85 ) Middlesex, VT
22. William Hennequin ( 47 ) Morrisville, VT
23. #Brad Kelley ( 55 ) Williamstown, VT
24. Kasey Collins ( 98 ) Barre, VT
25. #Haidyn Pearce ( 2 ) Chelsea, VT
26. Patrick Tibbetts ( 84 ) Barre, VT
DNS Jeffrey Martin ( 8 ) Barre, VT
DNS Derek Farnham ( 5 ) S. Royalton, VT
DNS Juan Marshall ( 79 ) Pittsfield, VT