RAMEAU, KIMBALL SHINE AT MAY 1 MONADNOCK 2021 OPENER
By Gary Dutton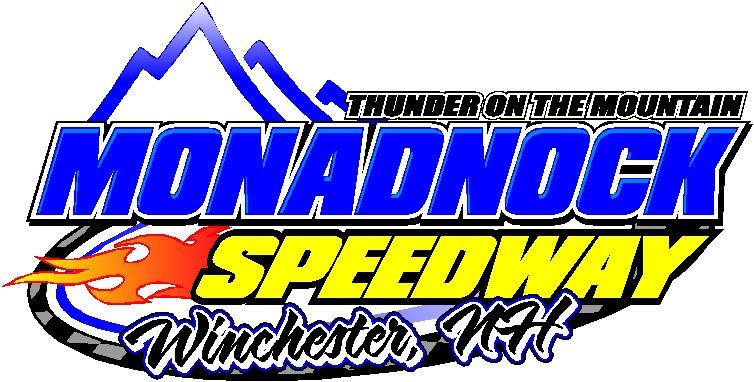 WINCHESTER, N.H. – Anyone still clinging to the belief that rising star Sammy Rameau's Tri-Track Open Modified Series win last season at Monadnock Speedway might have been a fluke, can now put that notion away. Far away!
The youthful Bay State hot shoe not only backed up that victory with another 100-lap score Saturday, May 1, at the high-banked speedplant, he did it with such a flourish that many longtime speedway fans were comparing his run to some of the best in the quarter-mile's 50-year history.
After suffering an almost disastrous pit stop while leading just past mid-race, Rameau blasted under first Matt Hirschman and then Ron Silk in the final laps of the Wonder Casino 100 main event Saturday to leave town with the $6,000 winner's purse in hand.
In other main event action Saturday, second-generation blaster Matt Kimball topped the 50-lap NHSTRA Modified feature, Ray King was victorious in the Mini Stocks, Ricky Whipple gobbled up the field in the Pure Stock main, and Jake Bosse won the Young Guns event, as the entry-level division returned to the high banks after a season's absence.
With the 28-car Tri-Track field stacked with big-namers like Ryan Preece, Matt Hirschman, Justin Bonsignore, Ronnie Silk and Tommy Barrett, it would be the talented chauffeurs who'd at one time called Monadnock home who spent most of Saturday's 100 laps at the front.
Matt Kimball, second in his heat race, set a torrid pace in laps one through 12 of the big dance, then giving way to Ben Byrne, as Les Hinckley and Rameau went to war close behind. Rameau, on a rail all day, took control and led Byrne, Hinckley, and Chase Dowling when the caution waved on lap 55.
In an absolute oddity, the entire field then pitted under yellow for fuel and fresh rubber, with Ronnie Silk coming first back onto the surprisingly empty track. Rameau, so dominate before the break, re-entered the battle way back in 17th, his bid to repeat last summer's 100-lap victory here probably awash.
Rameau, though, was on a mission. Blasting back through the All Star field, he dove to the absolute bottom of turn three to take second from Hirschman on lap 92, then used the same powerhouse move to take the lead from Silk with two to go, bringing the big crowd to its feet as he scored the $6,000 payday.
With Silk and Hirschman second and third, Justin Bonsignore finished his steady day's work in fourth, just ahead of Hinckley. Byrne led the home-track finishers in sixth.
Kimball, caught up in someone else's mess late in the Tri-Track feature, led all the way to score an easy victory in the NHSTRA Modified 50-lap feature. Swanzey star Todd Patnode stormed from row eight to capture the deuce on lap 35, with that impressive run netting him runner-up honors.
Ben Byrne, strong all day, was third under the flags, with steady Joey Kendall bringing the Raymond Repair ride home fourth, just ahead of Cameron Sontag.
Old foes Tim Leblanc and Gordon Farnum spent the day near the front of the Mini Stock battle, but it was Ray King taking the point from Farnum on lap 11 and then leading the potent pair under the checkers 25 laps later.
Ricky Whipple started in row two of the Mini Stock main, quickly rocketed to the point and drove away to win the 25-lapper by a country mile. Division strongman Chris Davis marched from row four to claim the runner-up hardware, with Nick Houle strong in third.
Jason Bosse won the Young Guns 15-lapper. Fast Eddy Petruskevisius was second under the flags, with Jeff Moffat earning third-place honors.
In visiting division support card action, Justin Harris dominated the Classic Lite main event, taking the checkers far ahead of Ed Gilman and Cody Hodgdon. Lucas Leone led all the way in the Pro Truck 55-lapper, holding off Randy Burr for the win, with Connor Souza a close third.
MAY 1 MONADNOCK WONDER CASINO 100 EVENT TOP TENS:
TRI-TRACK OPEN MODIFIEDS: Sammy Rameau, Ron Silk, Matt Hirschman, Justin Bonsignore, Les Hinckley III, Ben Byrne, Woody Pitkat, Anthony Nocella, Ryan Preece, Joey Cipriano.
NHSTRA MODIFIEDS: Matt Kimball, Todd Patnode, Ben Byrne, Joey Kendall, Cameron Sontag, Aaron Fellows, Geoff Rollins, Brian Chapin, Tyler Leary, Nathan Wenzel.
MINI STOCKS: Ray King, Louis Maher, Gordon Farnum, Tim Leblanc, Kevin Clayton, Kevin Cormier, Mike Douglas, Eric Pomasko, Josh Hubbard, Jeff Heath.
PURE STOCKS: Ricky Whipple, Chris Davis, Nick Houle, Kyle Robinson Newell, Jason Leray, Raven Streeter, JD Stockwell, Jake Bosse, Nolan McClay, Cory Lofland.
YOUNG GUNS: Jake Bosse, Eddy Petruskevicius, Jeff Moffat, Leilei Daniels.
IN ACES MODIFIEDS SUNDAY, MAY 2, AT MONADNOCK
WINCHESTER, N.H. – Birthday boy Brian Chapin celebrated in style Sunday, May 2, at Monadnock Speedway, trouncing the NHSTRA Modified field to score his first win of the young season.
The teenaged Curtis twins showed their jump to the Late Model Sportsman division didn't slow them down, finishing one-two their first time out this year, and Street Stock powerhouse Tommy O'Sullivan led all but two laps en route to his first 2021 victory.
The Granite State Pro Stock Series was in town, squaring off in three 20-lappers, with the big bucks going home with Angelo Belsito after he won the first two segments then cruised to third in the nightcap to finish ahead of Gabe Brown and Mike Mitchell.
In the Modified main, Ben Byrne – third in the night before's 50-lapper – took charge at the green, holding the point until Chapin finally found success in the high groove to take control at the mid-race mark.
Todd Patnode, second in Saturday's season opener, got up for second on lap 33 but, on this night, Chapin had all bases covered. With Patnode duplicating his deuce run of the night before, former LMS giant Aaron Fellows earned his first Modified trophy in third.
Ryan Currier jumped all over the lead in the LMS main, with Chase Curtis glued to his bumper. Curtis would be dumped by a lapper on the 11th circuit, with his twin Jaret taking advantage of the ensuing restart to snatch the point from Currier.
Cam Curtis – no relation – rocketed to the front on lap 19, but confusion around a late-race caution dropped the Baltimore, VT young gun to ninth on the night, as the Bay State brothers, Jared and Chase, began their LMS careers right where they'd left off in the 2020 Street Stocks. Cole Little wood, solid all day, came home third.
Street Stock powerhouse Tommy O'Sullivan took charge on the third go-round of Sunday's 25-lapper and never looked back. Jimmy Renfrew Jr. was booted out of second on lap four, but then charged back through the field to take second from 2020 champ Dave Greenslit. Nathan Wenzel was strong in fourth, with Kenny Thompson fifth on the day.
Defending NELCAR Legends series champ Luke Lebrun made easy work of topping the visiting division's 25-lap feature. Devin Deshaies was second, and Colby Meserve third.
Danny Gill won the day's 50-lap Big Car Enduro, then quickly returned to the track to score the runner-up finish behind EJ Flanagan in the 60-car Four Cylinder 50-lapper.
Next Saturday, May 8, Monadnock Speedway will celebrate 50 years of racing on the high banks, with adult grandstand admission only $5.That event will include the running of the John Zellman Memorial Race for Pure Stocks. For more information, please visit www.monadnockspeedway.com.
MONADNOCK SPEEDWAY MAY 2 SPRING DASH II TOP TENS:
NHSTRA MODIFIEDS 40 LAPS: Brian Chapin, Todd Patnode, Aaron Fellows, Ben Byrne, Matt Kimball, Cameron Sontag, Tyler Leary, Nathan Wenzel, Cory Plummer, Kim Rivet.
LATE MODEL SPORTSMEN: Jaret Curtis, Chase Curtis, Cole Littewood, Austin Brehio, Robert Hagar, Ryan Bell, Nancy Muni-Ruot, Scott Beck, Cam Curtis, Ryan Currier.
STREET STOCKS: Tommy O'Sullivan, Jimmy Renfrew, Dave Greenslit, Nathan Wenzel, Kenny Thompson, Jason Kozaka, Travis Hollins, Hillary Renaud, Keith Johnson, Isabella Minchella.