TIM WENZEL TOPS TEDDY BEAR POOLS 50 SATURDAY AT MONADNOCK
Monadnock Speedway June 19 event story
By Gary Dutton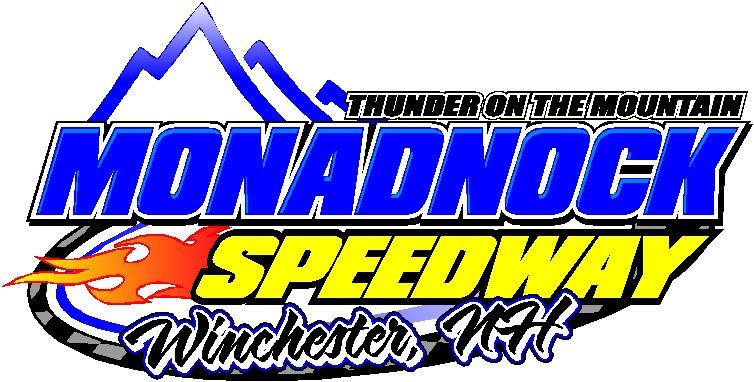 WINCHESTER, N.H. – Tim Wenzel won the 50-lap Teddy Bear Pools and Spas Street Stock main event Saturday at Monadnock Speedway. It was the Holyoke, Mass. speedster's second win in a row, this one worth a cool $1,000.
With the first 76 laps of feature racing flying by caution-free, the fast-paced event produced four first-of-the-season feature winners Saturday on the high banks.
Tyler Leary got the job done in the NHSTRA Modifieds, Nick Houle rocketed to the Pure Stock checkers, former track champ Louie Maher rocked the Minis, and John Thibodeau scored a thriller in the Six Shooters. Eddie Petruskevicius scored his fourth win in the Young Guns.
With early Street Stock leader Kenny Thompson shuffled back along the high groove on lap 12, multi-race winner Chris Buffone took over, but the real race had just begun.
Tim Wenzel inched into the lead as lap 20 went into the books and his kid brother Nate was soon at his back bumper. The younger Wenzel and Buffone raced the rest of the way under a blanket, with the sibling pair taking the checkers a single length apart. Buffone was third, with Tommy O'Sullivan using a late-race pass for fourth.
Several multi-car wrecks around northern New England have had a temporary thinning effect on Modified car counts, but the all-out competition level is doing just fine.
Trevor Bleau took command on lap four of Saturday night's 40-lapper, holding the point until Todd Patnode's lap-30 bump-and-run moved him to the front. The next time around, though, the Swanzey strongman was booted out of the lead, handing the top spot to Tyler Leary.
Leary, once in front, never looked back. The Hatfield, Mass. pilot blasted off to score his first-ever open-wheel victory on the high banks, earning the win ahead of Cory Plummer, who rubbed past Ben Byrne for second.
Many of the Mini Stock rides look just plain fast. Former champ Louie Maher's 69, though, could be the car the kid delivers your pizza with. On Saturday, Maher delivered all the goods, rocketing to his first win of the summer.
Mini Stock kingpin Gordon Farnum pitted out of the lead on lap ten, with Maher then taking over and never looking back. Farnum came back to dive low on the final lap, snatching second from Kevin Cormier to stay 16 markers up on Maher in the points parade.
Nick Houle had his share of problems in the early season. Not so anymore. Houle took charge on lap four of Saturday's Pure Stock main and then checked out on the rest of the 15-car field to score his first win of the season. Division strongman Chris Davis came from row four to finish second, with Cory Lofland's solid run netting him third.
John Thibodeau and John Voorhees swapped the Six Shooter lead back and forth, with Thibodeau making a great last-turn pass to score the win.
Claremont star Dustin Thibodeau, favored to duplicate his Monadnock victory of earlier this season, was never a factor but, with Father's Day just a few hours away, it was his Dad carrying the checkers in the caution-free 25-lapper. Lee regular Travis Hollins came from row seven to finish third.
Fast Eddie Petruskevicius took the lead from Leilei Daniels on lap five of the Young Guns feature and simply drove away to score his fourth win of the summer. Eddie Gomarlo got up for second on lap 12, and Dominick Stafford's third-place run netted him his first speedway trophy.
Track owner Norm Wrenn feted both the Mini Stock and Pure Stock 2020 top tens in a brief on-track ceremony Saturday. Mike Douglas was honored as last summer's Pure Stock king, beating out Chris Davis and JD Stockwell for the crown, with Nate Wenzel celebrated as 2020's best of the Mini Stockers, edging Gordon Farnum and Tim LeBlanc.
Monadnock Speedway returns to action next Saturday, June 26, when the ground-pounding ISMA Super Modified will battle for 75 laps, atop a full card of NASCAR Advance Auto Parks Weekly Racing Series events. The special starting time for this event is 5:00 p.m.
MONADNOCK SPEEDWAY JUNE 19 TOP TENS:
STREET STOCK 50: Tim Wenzel, Nate Wenzel, Chris Buffone, Tommy O'Sullivan, Jason Kozacka, Hillary Renaud, Paul Smith, Chris Lindquist, Joe Arena, Greg Williams.
NHSTRA MODIFIED 40: Tyler Leary, Cory Plummer, Ben Byrne, Todd Patnode, Kimmy Rivet, Trevor Bleau, John Studley, Brian Chapin, Matt Kimball, Eric LeClair.
MINI STOCK: Louie Maher, Gordon Farnum, Kevin Cormier, Kevin Clayton, Ray King, Jeff Asselin, Mike Douglas, Kevin McKnight, Jeff Heath, Bill Chaffee.
PURE STOCK: Nick Houle, Chris Davis, Cory Lofland, Kyle Robinson Newell, Jason LeRay, JD Stockwell, Jake Bosse, Jimmy Zellman, Damien Houle, Doug Nelson.
SIX SHOOTER: John Thibodeau, John Voorhees, Travis Hollins, Brandon Mailhot, Chris Hadley, Mike Yeaton, Ben Bushey, Paul Colburn, Eric Lanou, Dakotah Decourcy.YOUNG GUN: Eddie Petruskevicius, Eddie Gomarlo, Dominick Stafford, Leilei Daniels.
Photos Courtesy of Emily Miller
Tim Wenzel – Holyoke, Ma (Street Stock Winner)Tyler Leary – Hatfield, Ma (NHSTRA Modified Winner)