LUCAS OIL 150 TO KICK-OFF 2019 SEASON AT PETTY INTERNATIONAL RACEWAY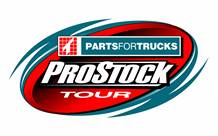 (Halifax, NS, May 14, 2019) Race fans can finally get excited, the long off-season is over and the Parts for Trucks Pro Stock Tour is set to embark on its 19th season this Saturday! The Season Opener Lucas Oil 150 takes place this Saturday May 18th at Petty International Raceway, located just outside of Moncton in River Glade NB. The Lucas Oil 150 will mark round one of 12 for the popular touring series which will visit four Maritime markets this summer. Approximately 30 teams from across the Maritimes are expected for Saturday's event. Atlantic Tiltload Heat Races will set the field and are slated to get underway at 4:00 PM.
Fans are in for a great show on Saturday with a stout field of drivers who will all be looking to leave their mark at the season opener. In order to do that however they will have to compete against reigning and two-time Series champion Cole Butcher (Porter's Lake, NS) and three-time champ Shawn Turple (Enfield, NS). Not to mention former Cat 250 winners Dylan Blenkhorn (Truro, NS) and Craig Slaunwhite (Terence Bay, NS) and past IWK 250 winners Kent Vincent (Crapaud, PE) and Darren MacKinnon (Charlottetown, PE), just to name a few of the elite field prepared for battle at the Lucas Oil 150.
A strong field of contenders from New Brunswick will look to defend their home turf on Saturday. Sarah McKay (Quispamsis) who will run full-time in 2019 will be joined by fellow New Brunswick drivers who will run part-time including, 2012 Exide Batteries Rookie of the Year Steve Halpin (Saint John), Craig Ward (Riverview), Ashton Tucker (Fredericton), Andrew Rodgers (Smithtown) and Cory Hall (Jolicure). Ryan Messer (Harvey) will make his Parts for Trucks Pro Stock Tour debut at the Lucas Oil 150. Messer won the Pro Stock 250 at Speedway 660 last year and lost the track championship in a tie breaker to former Pro Stock Tour driver Dave O'Blenis.
Russell Smith Jr. (Lakeside, NS) will kick-off his first full-time season on the Parts for Trucks Pro Stock Tour at the Lucas Oil 150. Smith Jr. is an accomplished late model driver who will be looking to etch his name on the iconic Exide Batteries Rookie of the Year trophy come the end of the season.
Joining the Parts for Trucks Pro Stock Tour this Saturday at Petty International Raceway are the Passione Flooring & Interiors East Coast Mini Stock Tour, Street Stocks and A.E. McKay Builders Late Model Sportsman. Please note all opening classes on Saturday will run main features only.
Admission (cash only) for Saturday's Lucas Oil 150 is $30.00 for adults, $10.00 for youth (8-18 years old); pit admission is $35.00. Children 7 and under are admitted for free.

Visit www.maritimeprostocktour.com for complete event details and coverage.
EXPECTED ENTRY LIST (as of Tuesday, May 14th)
#02 – Craig Ward – Riverview, NB
#03 – Stephen Halpin – Saint John, NB
#08 – Nicholas Naugle – Dartmouth, NS
#0- Shawn Turple – Enfield, NS
#1- Ryan Messer – Harvey, NB
#2- Ashton Tucker – Miramichi, NB
#5 – Jonathan Hicken – Brudenell, PE
#8 – Kent Vincent – Crapaud, PE
#14 – Terry Dougay – Albany, PE
#18 – Darren MacKinnon – Charlottetown, PE
#21 – Shawn Pierce – Bridgewater, NS
#29 – Greg Proude – Springvale, PE
#32 – Sarah McKay – Quispamsis, NB
#40 – Robbie MacEwen – Charlottetown, PE
#42 – Cory Hall – Jolicure, NB
#42– Andrew Rodgers – Smithtown, NB
#44– Russell Smith Jr – Lakeside, NS
#48 – Waylon Farrell – Conception Bay South, NL
#49 – Harry Ross White – Kennetcook, NS
#53 – Cole Butcher – Porter's Lake, NS
#54 – Jarrett Butcher – Porter's Lake, NS
#67 – Dylan Blenkhorn – Truro, NS
#81 – Nevin Scott – Marshfield, PE
#82 – Chris Hughes – Brackley Beach, PE
#91 – Dylan Gosbee – Cornwall, PE
#99 – Craig Slaunwhite – Terence Bay, NS
*Entry list subject to change without notice