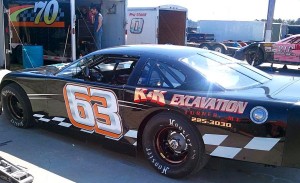 Wentworth Finishes Strong At Oxford Plains
Welch Wins Final Canaan Race, Crazy Horse Cars Fast At NHMS
SOUTH PARIS, Maine – Don Wentworth of Otisfield, Maine, is a veteran stock car driver who won't quibble with one inevitable truth in short-track racing: It's better to finish strong than it is to sputter to the finish line and spend all winter trying to figure out what went wrong.
Wentworth made sure he put a solid capper on the 2013 season at Oxford Plains Speedway in Oxford, Maine, posting a pair of podium finishes in the final two events of the inaugural Pro Late Model season at the track. Wentworth won the 40-lap feature at Oxford on August 30.

"It was pivotal for us," said the driver of the No. 63 K&K Excavation Chevrolet. "It was a struggle (leading up to that). I don't know anybody that races these things that is very tolerant of losing. We had some runs this year that were woulda, coulda, shouldas, but in the end it's really fun on the ride home being able to say, 'That thing was really quick, huh?' instead of going home saying 'What the heck is wrong here?'"
Wentworth finished third on Sunday, September 8, in the season finale – after starting at the back of the 17-car field. With that effort, he locked up fourth in the final standings after building a brand new Crazy Horse Racing chassis prior to the season.
"Two weeks ago, we did some wholesale stuff on it," Wentworth said. "We changed everything but the oil that week, and we just hit on it. There's some detail stuff that we should have known – we've all been doing this a long time. I think we got so hung up on bump stops and shock valving and stuff we hadn't used in a race car before, we forgot that basic adjustments still work. They're still important. We were looking for some sort of a Holy Grail instead of a whole package that complemented itself.
The last couple of weeks, the car was really quick."
MORE WINNERS: Wentworth was one of five winners out of the Crazy Horse Racing stable over the last 10 days.
Quinny Welch of Lancaster, N.H., won the NASCAR Whelen All-American Series Late Model feature at Canaan Fair Speedway on Saturday, September 7 – giving the multi-time White Mountain Motorsports Park champion the final Late Model feature win in Canaan Fair history. The speedway is closing its gates to weekly racing following the completion of a Granite State Pro Stock Series race this coming weekend.
Keith Rocco of Wallingford, Conn., the 2010 NASCAR Whelen All-American Series national champion, also won a 30-lap Late Model feature at Waterford Speedbowl on Saturday night. The victory was the eighth of the 2013 season for Rocco, who holds a commanding 109-point lead atop the division with just four races remaining.
Luke Shannon won at Riverside Speedway in Groveton, N.H., on Saturday night for his third win of the year at the quarter-mile.
Travis Stearns of Auburn, Maine, won his first career ACT Late Model Tour race when he took the checkered flag for Richard Green Racing in the Labor Day Classic 200 at Thunder Road International Speedbowl on September 1.
SUCCESSFUL TESTING: Stearns and the RGR No. 16 LaQuinta Inns & Suites Chevrolet followed the win at Thunder Road with a strong outing in an open Late Model test at New Hampshire Motor Speedway on Wednesday, September 1. Stearns was among the fastest cars on the time chart throughout the six hours of testing, and he won a 10-lap "mock race."
"We were getting beat on the straightaways a little bit, but it was by far the best handling car I've ever had at Loudon," Stearns said.
The fifth annual ACT Invitational at New Hampshire is slated for Saturday, September 21.
Stearns beat fellow Crazy Horse Racing driver Aaron Fellows by a fraction of a second in his mock race as Fellows raced down the leader over the final two laps.
A number of other Crazy Horse chassis were also at the test, including Luke Hinkley, Todd Davis, Josh Masterson, Ricky Bly and Late Model rookie Taylor Martin. Martin revealed on her team's Facebook page Monday that she had been invited to participate in the ACT Invitational.
LAMBERT ROLLING: Brandon Lambert has turned in a strong season in Late Model competition at Riverside Speedway in Groveton, N.H. In addition to another Top-5 run over Labor Day weekend, Lambert made his debut in the Granite State Pro Stock Series at his home track on Saturday, September 7. It came just after he finished third in the weekly Late Model race there, too.
Lambert finished seventh in the 16-car field that included no fewer than eight drivers who had previously posted wins on the tour.
With Lambert's podium finish in the Late Model ranks, he is now third in the division's standings with only one race remaining this weekend.
CHAMPIONS CROWNED: Ryan Robbins of Dixfield, Maine, finished ninth Sunday in the season finale at Oxford Plains Speedway to earn his first career Street Stock division championship. It was the second title for a Crazy Horse Racing car at Oxford in a span of four days, as Dottie Patria of Turner, Maine, earned the Ladies division crown as part of the Wednesday night "Acceleration Series" at the track.
Other track champions at Oxford Plains this season included T.J. Brackett of Buckfield, Maine, who led a 1-2-3 finish in the Pro Late Model standings for the Brackett family. His father, Tim Brackett, finished second, while sister Vanna Brackett finished third.
Other 2013 Oxford Plains Speedway champions included: Justin Larsen, Mini Stock; Corey Morgan, Outlaw Sportsman; Cassi Martin, Trucks; Dustin Salley, Runnin' Rebels; and Kyle Hewins, Outlaws. Crazy Horse Racing would like to express a big congratulations to all drivers and teams.