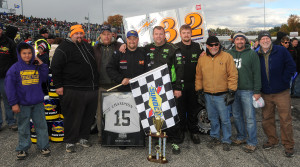 Cabral, Bigelow Best in NEMA's Shane Hammond Memorial at Thompson's Sunoco World Series of Speedway Racing

Randy Cabral pulled off "one for the ages" coming from last place in the NEMA feature to
pass teammate Todd Bertrand on the last lap at Thompson Speedway Motorsports Park's
Sunoco World Series of Racing this past Saturday evening. In Lites action, Scott Bigelow
dominated the feature event, despite a late race charge from John Zych Jr. Zych, the
night before, was crowned the NEMA champion for 2015, and his father, John Zych Sr. the
owner's champion. In the Lites division, Anthony Payne won his first series championship
and Bigelow won the car owners title.
In the NEMA feature, Todd Bertrand jumped out into the lead in the Tim Bertrand owned
#74 machine. He quickly paced the field, pulling out to nearly a half straightaway lead
at one poiNt. Further back, John Zych Jr. had charged from his ninth starting spot to
take over the second spot by lap eight. Randy Cabral, who started scratch on the field,
was also making his way through the field and would reach the third spot by lap
thirteen.
(more…)