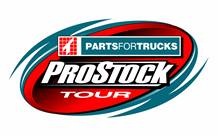 (Halifax, NS, August 20, 2014) The Parts for Trucks Pro Stock Tour is headed to Petty International Raceway this Saturday for the Atlantic Dodge Dealers 150. This is the third and final trip of the season to the ¼ mile oval located just outside of Moncton in River Glade, NB. The 150-lap stock car event marks round ten of 12 for the popular regional touring series. The Atlantic Dodge Dealers 150 is the highlight event of the 50th running of the River Glade International taking place this weekend at Petty Raceway. Grandstands for Saturday's main event open at 3:00 PM, qualifying will take place at 5:10 PM with Atlantic Tiltload Time Trials. Feature racing is slated for 6:00 PM.
With just three races to go John Flemming (Halifax, NS) maintains the championship point lead over Shawn Tucker (Fredericton, NB) and Dylan Blenkhorn (Truro, NS) who sit second and third respectively. Flemming and Tucker both encountered trouble at the Ron MacGillivray 150 at Riverside International last weekend, which has given new life to Blenkhorn's championship hopes. Jonathan Hicken (Brudenell, PE) finds himself in fourth spot and Cole Butcher (Porter's Lake, NS) sits in fifth. Both have a lot of company however looking to claim those positions with former series champion Shawn Turple (Enfield, NS) and Greg Proude (Springvale, PE) in sixth and seventh. Less than 35 points separates these four competitors.
Lots of New Brunswick talent will be in the field for the Atlantic Dodge Dealers 150. Exide Batteries Rookie of the Year leader Sarah McKay (Quispamsis, NB) and three-time series champ Shawn Tucker are regulars on the series looking to successfully defend their home turf. Also expected are Jason Carnahan (Moncton, NB), Tim Rodgers (Lower Coverdale, NB) and Robbie Fraser (Riverview, NB) who will make his career Parts for Trucks Pro Stock Tour debut on Saturday.
Kicking off Saturday's racing card is the Maritime League of Legends in a 50-lap Atlantic Tiltload Challenge, and the Mister Transmission Mini Stocks.