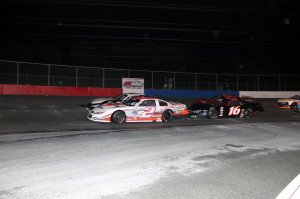 JAMES RIVER, NS (August 15, 2014) – Mother Nature is not cooperating with the running of the Ron MacGillivray Chev Olds GMC 150 at Riverside International Speedway. For the third time this year the event has had to be postponed due to a rainy forecast. Originally rained out June 14 and then June 15, the event was moved to tonight and now to Sunday afternoon.
"We're as frustrated as everyone else," said track manager Paul McLean. "We really want to get this show in but it's just not fair, especially to those who travel any distance to attend our events, to bring everyone here based on the information we have gathered this morning from public and private (commercial) forecasting services. Every one of them says we are in for wet weather this afternoon into late this evening. There might be a small break but it's not enough to get the show in."
Track management are working with Parts for Trucks Pro Stock Tour management to put together a schedule for Sunday; expectations are it will be posted by Noon today.
The Home Hardware Building Centres 100 for the Napa Sportsman Series has also been moved to Sunday afternoon.
On Saturday the NASCAR Canadian Tire Series invade Riverside International Speedway for the Wilson Equipment 300 Supporting Red Cross Disaster Relief. The Maritime League of Legends will provide support class action with the $1,000 to win Maritime Legends Invitational. Heat races for the Legends start at 2:35 p.m. followed by NASCAR time trials and an autograph session. The 50-lap Legends feature is set for 6:30 followed by pre-race ceremonies for, and, the Wilson Equipment 300.