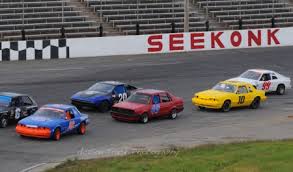 Seekonk, MA. – It took four years for Nashua, New Hampshire driver Norm Wrenn to find victory lane with the Valenti Modified Racing Series, but the wait came to an end Saturday night, when 'Stormin' Norman stormed off the fourth turn to the checkered flag to capture the 'Seekonk 100' in front of a cheering crowd at Seekonk Speedway, Seekonk, MA.
Wrenn started 11th in a 20-car field and gradually worked his way to the top five settling into 3rd at lap-51. Wrenn then engaged in a battle with Max Zachem, of Preston, CT, point leader Justin Bonsignore, of Holtsville, NY, race leader Richard Savary, of Canton, MA, and a fast closing Rowan Pennink, of Huntingdon Valley, PA, the series reigning champion.
A series of late race caution flags on laps 80, 81, and 88 made for intense race restarts and a flurry of contact
resulting in Pennink, Bonsignore, and Wrenn making great saves preventing spinouts or crashes to remain in contention.
The lead changed hands 10 times with Savary leading lap 98, Bonsignore lap 99, and Wrenn the all-important lap 100.
Wrenn was running fourth entering the third turn on the final lap. With Savary, Bonsignore, and Pennink slowed by contact, Wrenn darted to the bottom of turn four and drag raced Pennink to the finish by a margin of 0.055 ahead of Pennink.
An emotional and teary-eyed Wrenn spoke to the crowd in victory lane. "We have won championships in the Pro Stocks, three championships in the Pro-Four's, this is an elite division and I have always wanted to run up front. To win is awesome. My crew has been with me since day one racing street stocks at Star Speedway in 1990. I'm getting old. I'm glad I could pull one off before I retire."
When asked what went through the his mind as the finish was nearing, Wrenn explained, " I was watching what was happening up front. Coming up through the field I let a couple of cars go by because of the banging."
And for the final turn. "Oh My God I'm going to pull this off," Wrenn said smiling.
Bonsignore finished a strong third, with Savary fourth, and veteran Rob Goodenough, of Swanzey, NH, making his first start of the season, fifth.
Rounding out the top ten were Zachem, Carl Medeiros, Rob Richardi Jr, Dylan Kopec, and Mike Willis Jr.
9 caution flags slowed the race for a race time of 56 minutes and 04 seconds. 13 of the 20 starters finished on the lead lap.
Tom Abele Jr, Pennink, and Zachem won heat races.
The VMRS returns to New Hampshire this Saturday night August 23, at Monadnock Speedway, for the running of the 'Victor Johnson Memorial 100.