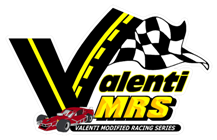 Savary Grabs VMRS Victory; His Second At Seekonk
(Seekonk, Mass) – Canton, Massachusetts, veteran Richard Savary started
third in a 25 car field Saturday night, and despite challenges from
modified aces Woody Pitkat, of Stafford, CT, and Todd Szegedy, of
Ridgefield CT, hung on to win the Valenti Modified Racing Series
sanctioned, 'Seekonk 100,' The win is Savary's first this season.
Savary becomes the third different driver in three races to win in 2015.
Savary took command on lap 42 from early leader Dylan Kopec, of

Palmer, Mass, and was never headed. Mike Willis Jr, of Grantham, NH,
led the opening 10-laps before Kopec took charge.
Szegedy settled for second followed by, Kirk Alexander, of W.Swanzey,
NH, third, Rowan Pennink, of Huntingdon Valley, PA, fourth, and
Anthony Nocella, of Woburn, MA, fifth.
Woody Pitkat, Charlie Pasteryak, Norm Wrenn, Dennis Perry, and Donnie
Lashua, rounded out the top ten.
The race was slowed by seven caution flags and was completed a little less
than 52 minutes.
Qualifying heat winners: Savary, Kopec, Willis
All 25 teams that entered the event started the 100-lap race.
Next event: Lee USA Speedway Friday June 19,2015
Race Summary:
June 6, 2015
Race # 3
Entrants (25)
Distance: 100-laps
Time: 51:43:000
Margin of Victory: 0.256
Best Speed: 96.975 (Savary)
Best Lap Time: 12.362
Lead Changes: 2
Cautions: 7
Unofficial Order Of Finish: (1) Savary (2) Szegedy (3) Alexander (4)
Pennink (5) Nocella (6) Pitkat (7) Charlie Pasteryak (8) Wrenn (9) Perry
(10) Lashua (11) Fournier (12) Schneider (13) Pearl (14) Patnode (15)
Kopec (16) Mead (17) Sherman (18) Chris Pasteryak (19) Dion (20)
Medeiros (21) Kyle James (22) Annarummo (23) Meservey (24) Willis
(25) Ianarelli