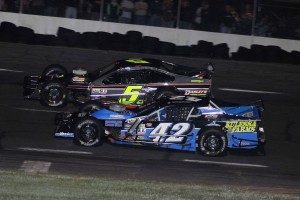 WEST HAVEN, VT – History will be made at Devil's Bowl Speedway on Friday night, July 24, with the Newport Chevrolet-Buick-GMC 100 – the track's inaugural event for the Valenti Modified Racing Series (VMRS). The low-slung, high-horsepower, open-wheel VMRS Modifieds will make their debut on the Rutland County half-mile oval as the headline event, in addition to four divisions from the weekly NASCAR Whelen All-American Series presented by Yandow Sales & Service and John Deere.
Connecticut's Woody Pitkat holds the VMRS championship point lead as he chases his first series title. Pitkat has won a pair of VMRS events at Stafford Motor Speedway in his hometown this season, a track that drivers from several divisions of racing have called similar to the track layout at Devil's Bowl.
Todd Patnode of Richmond, NH, the number-two point driver with VMRS, returns to Devil's Bowl after winning a race in the former SK Light Modified division at the track last season. Seekonk (MA) Speedway winner Richard Savary of Canton, MA ranks third, followed by Monadnock (NH) Speedway winner Todd Szegedy of Ridgefield, CT and former VMRS champion Chris Pasteryak of Jewett City, CT.
In addition to their success with VMRS, Pitkat and Szegedy each visited victory lane in NASCAR Whelen Modified Tour event on the "Magic Mile" at New Hampshire Motor Speedway last weekend.
The Newport Chevrolet-Buick-GMC 100 is just a part of the action on Friday, July 24, as the hometown Devil's Bowl stars will also be on the track. The weekly Bond Auto Parts Modified class will have twin 30-lap features, as Ron Proctor, Vince Quenneville Jr., Joey Roberts, and Greg Atkins continue their four-way championship battle. The Brileya's Chrysler-Jeep Renegades and Portland Glass Mini Stocks will race, along with a 50-lap race for the wild-and-crazy MFT Sauce & Rub Co. Enduro Series. The Central Vermont Motorcycles Late Model division has the week off.
The event also plays host to the "Christmas in July" toy donation drive. Fans and racers are encouraged to bring new, unwrapped toys for donation to benefit the Fair Haven Concerned organization, which will distribute the toys to underprivileged children in the towns of Fair Haven, West Haven, and Benson.